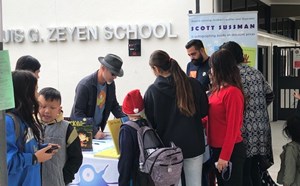 We were blessed to have the famous children's author, Scott Sussman, come and visit our school. He shared about his passion for writing, using words, and doing something that he loves to do. Many students were spell-bound and purchased one or more of…
Principal's Message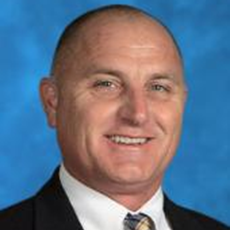 Dear Students, Parents & Zeyen Elementary School Families,
Welcome to the 2019/2020 school year!  It is a pleasure to serve as the Principal of Zeyen Elementary School – an amazing school that has earned a growing reputation for providing effective and collaborative instruction in a positive learning environment.  Zeyen's teachers work collaboratively to ensure the highest quality education for each child in our school. Wednesday collaboration sessions provide time for teachers to refine their instructional practices. Grade level teams meet regularly to identify areas of strength and weakness and identify strategies for improved achievement. As lifelong learners, our staff continuously refines their practices through careful study.  In addition we hold high expectations for knowledge acquisition and behavior to ensure our students' successes.  Daily our teachers deliver high-quality instruction and incorporate effective instructional strategies to meet the individual needs of our students.
Education is a joint venture between school and home.  As we work with our students to help them learn about the world around them through the prescribed curriculum, we very much appreciate the support that parents give their children at home as they strive to reach their learning goals.  Research suggests that the more involved adults are in their child's education, the more the child will experience success.  Parents are encouraged to get involved in their child's education by taking an active interest in their child's learning and consider volunteering on campus in the classroom, during schoolwide events, parent education opportunities, fundraisers, and with the PTO. It is important to note that parents set the tone for their children's education by instilling the basic understanding that education and learning are important. You are a powerful influence in your child's overall academic success!
Here at Zeyen Elementary, we believe that positive character traits are an important part of our personal growth. We focus our attention each month on one of the nine character traits we cover throughout the school year. In class, our teachers define the monthly trait, model it, and help students recognize it in themselves and others. Throughout the year celebrate these character traits by awarding students with Cobra Cash that can be used at the Cobra Store. In addition, once a month during our Friday morning flag salute we acknowledge two students from each class who embody the character trait we are focusing on.
Lastly, we have launched an attendance campaign.  Our motto for the year is "When you come to school every day, GOOD things happen!" Our goal is to obtain a monthly attendance rate of 97% or better.  At the end of each month every student who achieves "perfect" attendance will receive a 20 minutes of outside free time. For those students who go the whole school year with perfect attendance will receive recognition at the last Friday Flag Salute, a certificate, a free literature book, and a pizza lunch.  Perfect attendance consists of zero (0) absences and no more than five tardies and/or early check-outs. Please note that children cannot benefit from instruction if they are not in school.  We want to thank you in advance for making your child's attendance a priority!
Please click on the Zeyen Calendar to see all the year-long events. This calendar is updated weekly.  Also, we need you to sign up for ParentSquare as this is going to be the central way of communicating to our parent community.  Lastly please consider following us on Instagram and Facebook because we love showing off the activities our students are involved in here at Zeyen Elementary School.
On behalf of the Zeyen Elementary staff, I would like to wish you a sensational school year. Go Sizzling Cobras! Thank you for your continued support!
Sincerely,
Dr. Gary M. Gerstner
Principal
Our School
Welcome Zeyen Cobras!
We are committed to preparing our nearly 240 students to be successful and responsible citizens who contribute and thrive in a diverse society. In order to do so, we recognize the need to develop not just academic skills, but the personal skills needed for lifelong success.  
About Zeyen:
Named a 2018 California Distinguished School, an elite honor for schools demonstrating high academic gains and student success
Recognized as a 2018 California Honor Roll School for high academic achievement and college readiness
Credentialed and trained teachers  provide students with 21st century tools to excel academically and personally
Unique Makerspace inspires students to engage in hands-on STEAM projects with our science equipment and art supplies
Heritage language after-school programs in both Spanish and Vietnamese
After-school Boys & Girls Club provides students with academic support and keeps students active with athletics and art
1:1 technology ratio with all students using Chromebooks and iPads as part of daily instruction
Free parenting classes with helpful strategies about how parents can help their students succeed
Weekly music lessons from a credentialed music teacher bring out students' musical talents
Excellent PTO that works as a team to provide exciting field trips and fun opportunities for students
Parent Programs
Our incredibly active PTO meets once a month with Parents in Action and ELAC. PTO organizes family events, conducts fundraisers, and engages students in opportunities to give back. ELAC provides input and direction on the needs of our English Learners and their families. Parents In Action is comprised of nearly 50 parents who provide structured high intensity physical activity at lunch recess 3 days a week. Our teachers, staff and parents promote a sense of inclusiveness on campus. We teach students to give back to the community and participate in extracurricular activities to obtain important 21st century skills. Contact the school office to get involved. We look forward to enhancing Zeyen's educative events with you!
Student Recognition
We are committed to celebrating students for their many accomplishments during our Monthly Pride awards. Students are recognized with the Million Word Reader Awards, Boys & Girls Club Member of the Month, Presidential Academic Awards, and Principal's Awards for Writing. At Zeyen, we offer an eclectic choice of awards to highlight all students' diverse strengths! Academic achievement and character are also highly valued, facilitating the development of positive behavior and well-being. 
Please stop by our office for questions and ways to get involved. We look forward to celebrating a plethora of accomplishments with you all this school year!